Sarah Louise Palin born on 11th February 1964, is an American politician, commentator, author, and reality television personality. Palin served as the 9th Governor of Alaska for three years from 2006 to 2009. Palin was also the 2008 Republican Vice-president nominee along with Senator John McCain. She began her political career in 1992 when she was elected to the Wasillia city council and later became mayor of Wasillia in 1996. In 2003, Palin was elected as the chair of the Alaska Oil and Gas Conservation Commission. She later won the 2006 gubernatorial elections. Palin is the youngest female to ever be elected as the Governor of Alaska.
Palin also gave commentary for FoxNews for five years from 2010 to 2015. Sarah later had two talk shows. She hosted Sarah Palin's Alaska and Amazing America with Sarah Palin. Sarah also had a subscriber based online TV new channel called The Sarah Palin Channel. Palin was one of the foremost people to endorse Donald Trump for the 2016 presidential elections. In 2022, Palin announced that she would run for Alaska's at-large congressional district. Palin has also received an endorsement from former president Donald Trump in her run for the House of Representatives.
Sarah Palin all set to Advance to Special General Election in Alaska House Primary Race
Alaska is holding a special election on Saturday for the congressional seat previously held by the late Representative Don Young. Sarah Palin, Nick Begich, Al Gross and Mary Peltola are in the lead of the race with Palin leading above all. Statistics show that approximately 54.4% of the votes have been counted till now. Sarah is leading with 32,371 votes, she is followed by Nick Begich with 20,994 votes, Al Gross with 13,563 votes and Mary Peltola with 8,101 votes. Sarah is leading amongst 48 candidates.
The election is being held due to the sudden passing away of Representatives Don Young who was first elected to the House in 1973. The special election is to be held on 16th August. This will be the first time where ranked-choice election is going to take place in the State. About 1098,981 votes of the total 140,000 votes have been counted. Out of the top four candidates Sarah Palin and Nick Begich are Republicans, Al Gross is not affiliated to any party and Mary Peltola is a Democrat. Palin's campaign is based on the problems faced by the Americans today which is gaining her great recognition.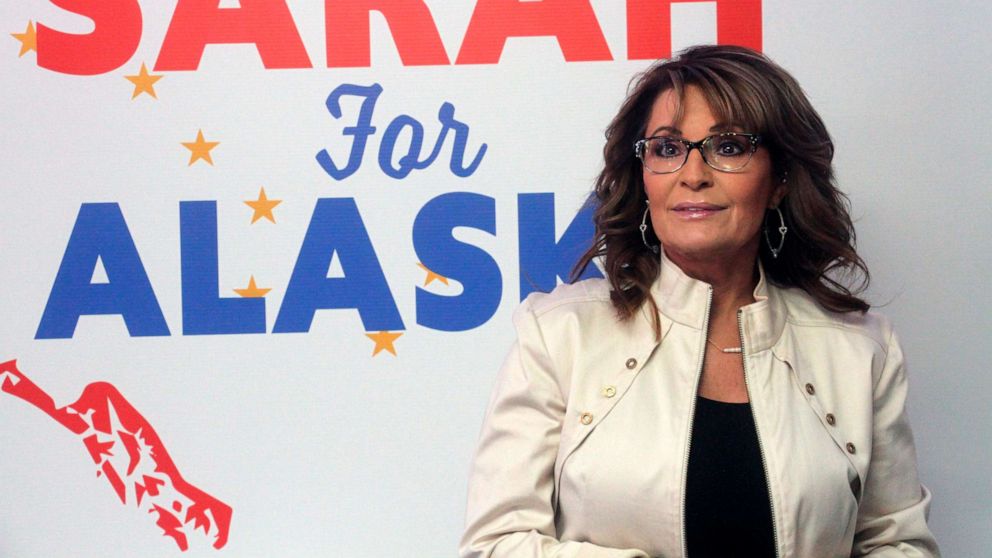 Each voter in the state was mailed a ballot. The process for voting began on 27th April 2022. The due date to submit the ballot was on Saturday..At least three more rounds of preliminary results will be announced by state officials before the results are certified and officially declared to the public in about two weeks. The results announced till now are temporary and has a high possibility of changing over the next two weeks as more ballots get processed. Even though the results may change most of the Republicans are sure that Sarah Palin is going to remain at the top and come out victorious.
The basis of Sarah Palin's Campaign
During the course of her campaign, Palin talks about all the problems that the citizens of America are facing on a daily basis. The basis of her campaign is to make life better for the people of Alaska. Palin talks about the inflation that America is going through. She talks about how the Government in power is hell bent on destroying the country. Palin has decided that she is going to do everything in her power to stop this from happening. She also talks about her plans of American energy independence. Palin says that she wants to be able to convey her message to everyone on how she plans on fixing America by developing Alaska natural resources. Palin's campaigns have assured the people that she is committed to Alaska and will do everything she can to help the people of America.
"We need to focus on policies that will make life better for the regular Joes out there who can't afford to fill their gas tanks and are struggling to feed their families because of Joe Biden's hyperinflation," Palin Said. "I'm looking forward to the special general election so we can highlight our ideas for fixing this country by responsibly developing Alaska's God-given natural resources, getting runaway government spending under control, protecting human life, protecting the right to keep and bear arms, and restoring respect for individual liberty and the Constitution."
Endorsements received by Sarah Palin
Sarah's campaign has made its way into the hearts of many people and she has received a lot of endorsements including the endorsement of Donald Trump. Trump and Sarah also had a tele-rally on 2nd June 2022. During the rally Trump said that "Sarah will fight harder than anybody." He praised her and said that not many people have her drive and candidates like her are the future of America and the first step to restore the American glory.
Sarah also received the endorsement of Former Secretary of Energy Rick Perry, Senator Rand Paul,  TV Show host Dan Bongino, former speaker of the United States House of Representative Newt Gingrich, Donald Trump Jr., Sheriff David Clarke and TV personality Kimberly Guilfoyle.
Former Secretary of Energy Rick Perry, "Sarah Palin has long been one of the strongest advocates for American energy independence. In 2008, she made, "drill baby drill" into a rallying cry for the whole country, and she's remained the biggest champion of domestic energy ever since. Sarah Palin will stand up to Joe Biden's foolish crusade against American oil and gas, and she will fight to open up ANWR and get American energy back on the market. We need Sarah Palin's leadership in Congress, now more than ever." 
Senator Rand Paul, "Governor Palin's no-nonsense approach and passionate advocacy have allowed her to overcome the opposition of the political establishment time and time again. With Sarah Palin Alaska will have an outspoken and effective champion in Washington, and Congress will benefut from a much-needed dose of common sense."
Dan Bongino,"I was so happy to hear you throw your name in the ring for the congressional seat in Alaska. I think you'd be such a great assest for the country."
Newt Gingrich," Sarah Palin would make a great member of the congress. Her toughness and directness would be a refreshing addition and would contribute to the national debate and to solving America's problems."
Donald Trump Jr.,"Sarah is a true fighter who will always put Alaska and America first. We need people like Sarah Palin in Congress to fight against the radical Democrats and RINO's who want to ruin our country."
Sheriff David Clarke," I know Sarah Palin. I met Sarah Palin. Tough as nails and truly cares about the state of Alaska and America. She won't be afraid to buck the D.C. establishment and do what is best for her constituents back home and what's good for her country. She'll stand up to DC elites when it comes to runaway reckless spending. Sarah is who freedom and liberty loving Alaska needs. Sarah is what rest of America needs in the Congress. She is experienced, battle tested and a rock solid changer. It is time to send Sarah Palin to Congress and I am proud to endorse her."
Kimberly Guilfoyle," Sarah Palin laid out the blueprint for American energy dominance with "drill, baby, drill" and she has never been afraid to call out the lies of the lamestream media. She will always put Alaska and America First, stand up for our constitutional rights, and fight back against the left's assault on traditional American values. I'm endorsing Sarah Palin for Congress because we need fighters like her to stand up to the left's America last agenda and promote common sense policies that will actually benefit the American people."
The Benefit Palin's position in the race will get her during the elections
Sarah Palin is leading the 48 candidate race with 30% votes and the rest following. Sarah has received multiple endorsements and her campaign is gaining great acknowledgement. For Sarah this race is her political comeback. This race will be Palin's first bid for elected office since she resigned from the position of Governor hald into her term in 2009. Palin plans on implementing many of the plans she has spoken about in the duration of her campaign.